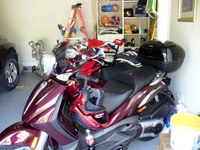 So, you want to know more?  I'm a serious geek.  Technology is both my job and my hobby.  I'm not really an avid gamer, but I do love to code.  Though I have worked in nearly every major language of the past 15 years, I prefer Objective C to any other language.  As you may have noticed, I'm also a Mac user.  I actually write Windows software by day, but I do so using a Mac.   That might sound a little odd, but for me, it's more efficient.
Oh, and I ride a scooter as my primary transportation.  I just started riding in 2006, so I'm not old school, and apparently have none of the bias about what you ride that so many share.  As far as I am concerned, if you are out there on two wheels, you are family, because we are sharing the same risks, and enjoying the same rewards.
Beyond that I do have other hobbies.  One is my yard.  I love the outdoors, and my yard is my little slice of the outdoors.  When we bought the current house, the yard was very basic.  I am in the process of turning it into my very own garden space, the problem is that it is 1.5 acres.  The estimate to have it done professionally was $75,000, so it is not an overnight process.  I refer to it as my 10 year plan. 
Another hobby is my bicycles.  I love to ride, and do so whenever I find an opportunity.  I have two, a 15+ year old Cannondale road bike that has seen better days, but it spends most of it's time on the indoor rollers, so I don't see it being replaced anytime soon.  The other, my 2005 Cannondale Jekyll mountain bike is the one that I spend most of my time on.   If I'm not in front of a computer, or out in the yard, I'm on the bike, usually with one or both of the older children with me.  In addition, I have discovered the joy of golfing with my children so that is an additional time sink.
Then there is the newest joy in my life.  My youngest daughter, born in Dec. of 2005, she has added so much to our family, and I expect her to be out there playing with the rest of us just as soon as she can. 
On the technical side of my life, you can peruse my resume online, it's not hard to find, and I might even convert it to this format eventually.  It's not really a big issue though, since if you really want to know the technical details, it's probably easier to send me an email.