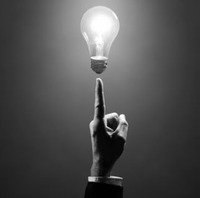 Perception, it effects us all in so many little ways.  Sometimes those effects are obvious.  Other times it takes years to understand the impacts.  Like it or not, we are more often than not judged upon the perception of who and what we are.  A week or so ago, Dan wrote a post about Love Me, Love my Bike that touched on the subject.  Perception has associated his bike as part and parcel of who Dan is.  At the time, it didn't strike a chord with me.  
Over the weekend I had a light bulb moment though.  Saturday, my older brother was over.  He had dropped his truck off for service and it was going to be there for a week or so.  He was headed out to Los Angeles for the week and was just going to take is motorcycle to the airport.  Our parents had issues and concerns with him riding to the airport with a suitcase and laptop bag on his motorcycle.  No big deal, it wasn't worth a fight, so I tossed him the keys to my Smart car and had him take that for the week.  I tend to ride whenever I can anyways, and not having a car for the week just enforces it.  
Sunday, my parents came over for dinner and I continued the discussion with my parents.  Turns out, perception can have some very interesting impacts on rational behavior.  It wasn't until that conversation that I understood how tainted the perception of my brother and I as riders has become.  Turns out, that they had no objections to me doing the same thing, it was specific to him.  Figuring out why it was an issue proved fascinating and enlightening.
It all boils down to perception.
I ride a big scooter, he rides a high end sport touring bike.  We both have full hard cases on the bikes.  He has ridden for about 3 years longer than I have.  He has 100's more hours of seat time than I do.  He is a more skilled rider than I.  None of these things played into the perception though.  I only ride on the street, and I ride 5-6 days in a week.  They see me on the bike all the time.   They see me hauling things around on it, they see the laptop going with me most of the time.   For my brother, he rides for pleasure.  He takes longer rides on the weekends, but also spends 8-10 track days season on the track riding fast and well.  He has more saddle time then I, but because he does not ride daily, there is a perception that I am the more prepared rider.  
The conversation wound it's way into other perceptions, and before long it had included everyone at the table.  It was about this time that my younger brother's wife bludgeoned as all with a simple statement.  We can argue and discuss it all we want, but people do not judge with rationale, they make snap judgements based on stereotypes and perception.  
A guy rolls up on an immaculate Harley Davidson on a sunny sunday and the snap judgement is more often than not that he is a businessman out for a weekend cruise.  Make it lunchtime on an overcast tuesday, and your snap judgment changes immediately.
I roll up on my scooter with it's beat up saddle bags and dirty 'well worn' appearance and the snap judgment is daily rider.
He rolls up on his red Ducati Sport Tourer (emphasis on Sport) and the snap judgement is boy racer.
Sure, sometimes these judgements are dead on, but at other times, they are dead wrong, and those tainted perceptions can play hell with our relationships with other people.  
I know that that conversation has motivated me to be more careful with letting my own tainted perceptions color my first impressions.
Til the next random thought hits
Dru