Rather than talk about me and my own riding on this bitterly cold and icy Monday morning, I want to take a day to talk about something that has been percolating in the back of the brain for a few months, and that is, should those of us riding what has ben traditionally referred to as a scooter start thinking and representing what we ride differently?  
The reason being, is that the lines between what is a scooter and what is a motorcycle are becoming increasingly blurry.  As a trend, I do not see this reversing either.  Impacting the issue even further is an increasingly different view of scooters by the rest of the motorcycling community.
Wikipedia defines a scooter as:
Scooters are two-wheeled motor vehicles that have evolved from their classic roots combing a step-through frame, small wheels (10" to 16" in diameter), and rear swingarm-mounted engine suitable for light duty — to a broad range of modern designs that include step-through as well as step-over frames, small or large wheels, front fairings or floor boards, and manual or automatic transmissions — suitable for a range of duty from urban to highway.

Using that definition, the scooter line is pretty clear cut.  Or is it?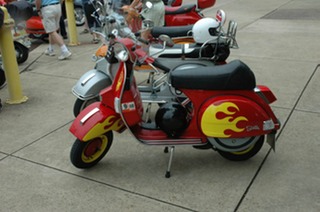 I think we can all look at the Geniune Stella product and agree that it is a scooter.  It is for all intents and purposes a vintage Vespa P series that just happens to still be manufactured as new.  
But what about other modern designs that share very little with the scooter roots of the swingarm mounted, single cylinder engine?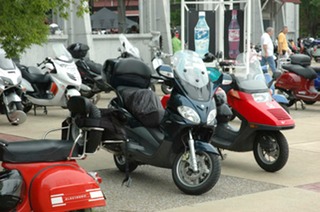 Pictured here is a Piaggio X9.  It is a modern design, that while it retains the spirit of the scooter in it's design, it is built like a motorcycle with a tubular frame, larger wheels, and a 500cc engine capable of running at highway speeds all day long.
Does this X9 really compete in the same space as the Stella as a "Scooter"?    This isn't even the largest example, with a Suzuki Burgmann using a v-twin 650cc engine, and in Europe, the Gilera GP800 with an 850cc v-twin.
Once you get into the 250+ engine sizes, is it really fair to categorize these vehicles as scooters?  Within the scooter community, this is a question that comes up alot, with some clubs not welcoming the so called "maxi's".
I think that if that was the only blurring of the lines, then the question would not be here, but it is not the only blurring.
The other distinction usually applied to modern scooters is that they are 'twist and go'.  Meaning, there is no clutch or gears for the rider to operate.  Many of the more traditional motorcycle riders have taken a dim view of the TnG riders as not being "real bikes".  Today though, we see those lines blurring as well.  In the last 18 months we have seen two major motorcycle manufacturers bring the Twist and Go designs to traditional motorcycle designs.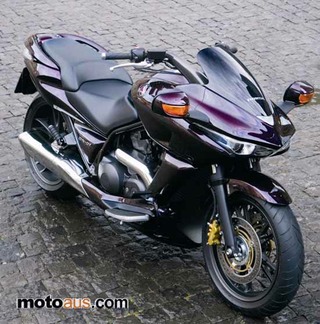 The Honda DN-01 being the more expensive and more luxurious of the two, it also carries a steep price tag.  But it has a distinctively motorcycle look and ride quality, with all of the convenience of a maxi scooter.  Is it fair to say that this bike and a high end Burgmann Executive are competing for the same customers?  
I think it would be an accurate assessment, but even more to the point, which bike would be more readily accepted by other motorcycle riders?  Which would be readily accepted into a scooter club?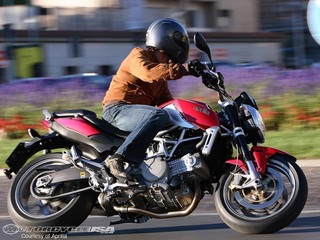 Aprilia also jumped into this marketplace, with a very different entry in the Aprilia Mana 850.   As you can see, the Mana is visually a naked sport bike.  It's ride quality is that of a sport bike, and yet unlike a traditional sport bike, it has storage for a helmet hidden in that 'fuel tank'.  It is also a "Twist and Go" where even in it's Manual Mode operation, there is no clutch, and the electronically managed CVT transmission will not allow the rider to over rev the engine, nor will it stall out if the riders fails to downshift.
Both of these are 'motorcycles' by definition, yet they share as much with the larger scooters as they do with a motorcycle heritage.  
Adding to all of this confusion is the advent of a a growing group of sportbike riders t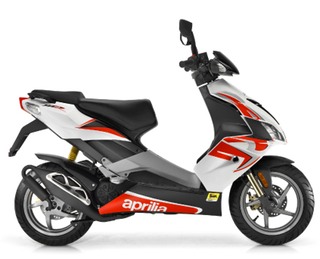 hat have discovered the joys of small displacement sport scooters.  These are folks that have spent hours, and in many cases hundreds of hours on the track and in the mountain roads riding 600 and 1000cc sport bikes right up the ragged edges of traction at unsafe speeds.  The risk has started to outweigh the thrill when they discover a new attraction.  The skill required to ride on the ragged edge of traction, power and weight is the same regardless of the speed an engine size.  With that discovery,  these riders are adding 50cc scooters like the Aprilia SR50, or the Kymco Super8, or even the Genuine Rattler at 110cc, and riding these in those same environments.  Discovering that even with such small displacements, these are sport bikes of another type, where riding on the ragged edge of power, weight and traction means that they are flying around corners at a blazing speed of 35mph.
As I have heard it described by several of these people, there is a thrill in pushing the limits, but still being 5-10mph under the speed limit.  Or to be more blunt, "there is nothing like coming around a corner with the throttle wide open, a knee on the ground, with your ass on fire just to have the same cop that would have thrown you in jail on your sportbike just look at you and laugh".  
I am certain that to some this sounds irresponsible, but these riders are doing this in full track leathers.  Yes, full track leathers on a 50cc scooter.
But this just continues the trend of blurring the lines.  Scooters have left the realm of the old school, and moved into an area that makes the old definitions behind.   Though I think of my BV500 as a scooter, I am really beginning to question if that's accurate.  I ride with a mixed group of cruisers, maxi-scooters, sport bikes, sport tourers and vintage scooters.  While the maxi's are comfortable within the range of riding of all of these groups, they don't really fit in with any of them, while they don't stand out like a sore thumb either.
In the car industry, the term crossover has become quite popular.  Sometimes, I wonder if that's not what we are seeing today.  You could legitmately put the big maxi's and the automatic motorcylces into a group that is in between scooter and motorcycle and call them crossovers.  It make's you wonder.  How long until we see a CVT based Ninja 250 with pricing that competes with the 250cc scooters?  How does a bike like that fit into the scheme of the marketplace?  How would it be accepted?